Awards
Prizes and awards of EOS Saunatechnik GmbH
Winner of the GOLDEN WAVE 2015
The innovation prize of SCHWIMMBAD + SAUNA in the categories: sauna - infrared - steam bath - attractions & accessories
The epicentre of innovation: The idea behind the new Steamtec II steam generator is simple: to deliver superior performance, paired with outstanding reliability and simplicity in use.
To reach this EOS has created a completely new construction with the brilliantly innovative heating principle - indirect water heating by externally placed heating elements. Which solves many typical problems arising from bad water quality, such as scale and cracking corrosion. Commitment to innovation continues with the variable power output - select the power you need at the push of a button directly on site. An integrated cleaning system will automatically descale and drain the water tank. Steamtec II has been designed to last - with ist reinforced stainless steel tank, durable brass fittings and heavy-duty metal chassis it won't waver even in the very intensive commercial use. It took us a huge amount of engineering to give you what Steamtec is built for - enjoyment in a relaxing steam bath and years of reliable service.
The increasing safety requirements of ​​commercial as well as private saunas require innovative systems that minimize or even completely eliminate fire damage in saunas. Very often it is damage caused by foreign objects, such as towels or cleaning utensils on the heater, which ignite while heating. EOS has introduced the thermo-optical sensor OPSIS-01. This sensor works on the principle of a thermal imaging camera. When the heater is switched on, the sensor scans the surface of the heater and detects irregularities and changes. Thus, conclusions can be drawn on whether a foreign object is on the heater. If this is the case, the heater is switched off and the heating phase is interrupted. The risk of fire is significantly reduced or no longer exists.
Source: https://www.schwimmbad.de/awards
Mythos wins the 2014 iF Design Award, one of the most coveted design awards in the world.
Mythos from EOS' S-Line heater generation won the 2014 iF Design Award. For 61 years, Industrieforum Design e.V. in Hanover, Germany, has been awarding this prize. In the three categories of this year's competition, 4,615 entries had been handed in from 55 countries.
A distinguished panel of 49 design, industry and education experts not only qualifies by their knowledge and experience but also by their keen sense for future trends. To some degree, their decision was based on the level of innovation, functionality, choice of material, and processing. Owing to its timeless and straightforward design, the sophisticated technical details, its body of high-quality stainless steel, and its ease of operation, Mythos excelled in all of the four categories.
On February 28, 2014, a grand audience of 2,000 economy, politics and media representatives at BMW Welt in Munich will see how EOS' sauna heater receives the 2014 iF Design Award as one of the 50 chosen products. Henceforward, Mythos in its impressively plain style will carry the iF label known as a seal of quality in the whole world.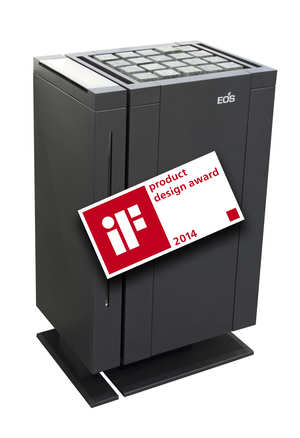 The innovation prize of SCHWIMMBAD + SAUNA in the categories: sauna - infrared - steam bath - attractions & accessories
EOS' S-Line sauna heater Mythos wins the Golden Wave 2013 award. Exclusive award-winning sauna heater for the dry Finnisch sauna in distinctive cubistic design with the unique pil-lar-alike foot. Floor-standing model for private and commercial saunas.
Source: https://www.schwimmbad.de/awards